The 15th International Conference on Geometry and Graphics
ICGG 2012 – MONTREAL, CANADA
---

Venue
Four Seasons ejuice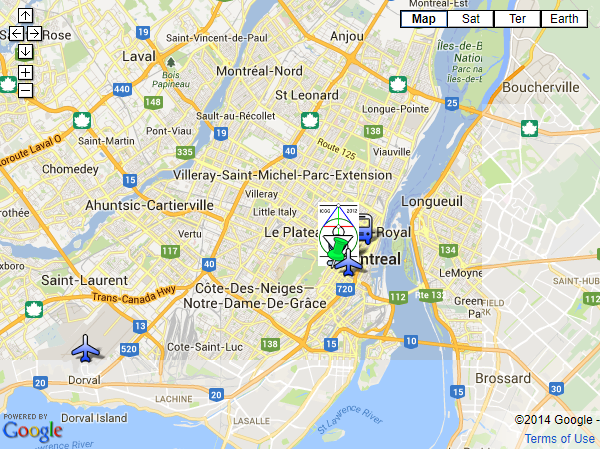 View ICGG 2012 in a larger map

The conference will take place in Montreal, Quebec, Canada.
Montreal is a bilingual (French and English), cosmopolitan town with North American and European influences.
In early August, expect warm sunny weather with high humidity.
Hotels
There are special fares for ICGG2012 attendees. Use the information below to profit from these fees. If you have any questions, please use the contact form on the contact page.
Delta Montreal

Please visit this
link: htp://www deltamontrealcom/12gsisgg
Prices as of 18 April 2012:
Delta Room. 135 CAD ;
Premier Room: 160 CAD
Signature Club Room: 185 CAD
Telephone: +1 -514-286-1986
Toll-free Reservations: +1-877-286-1986
Fax: +1 -514-284 4306
Sofitel

Superior king bedded rom.169 CAD (single or double
occupancy)
Luxury room: 199 CAD (single or double occupancy)
Luxury Room with 2 double beds: 199 CAD(+20 CADif
there is an additional person in the room)
Please mention CGGMGiLL" when cllin the hotelto
make reservations.
Telephone. +1-514-788 3042
Tll-free Reservations: +1-877 285 9001
Fax: +1-514-788 -2951
Access
By plane
The nearest international airport is Montréal-Trudeau. It is on the island of Montreal, 20 km West of the downtown campus of McGill University.
A taxi will charge you a flat fee of 38 CAD (+ 10-15% tip) to bring you downtown.
Another possibility is to take public transport. The aptly named 747 shuttle from the arrivals area of the airport will cost you 8 CAD. You can pay (exact change, no bills) on the bus, or buy a one-day bus & metro pass (same price) at the money exchange office in the arrivals area. This shuttle has several stops downtown, shown below. The closest one to the university is on the corner of René-Lévesque and Mansfield. You can then walk north, and will find McGill University at the corner of Sherbrooke Street West and McGill College.

By car
Coming from the South (from Vermont or New York State, for instance), you would typically cross the Champlain Bridge on Highway 10, and take the Bonaventure Expressway.
This will lead you right in the heart of the city, on University Street. Keep going North until Sherbrooke Street West, and you will find yourself at the Eastern edge of McGill University's downtown campus.
Coming from the West (from Toronto), you would typically enter the city through Highway 20, which becomes Highway 720 (the Ville-Marie Expressway) downtown. Take exit 3 (rue Guy) and you will be at the corner of Saint-Marc and René-Lévesque. Turn right on René-Lévesque Boulevard, left on Guy, and right on Sherbrooke Street West. You will find the main campus at the corner of McGill College and Sherbrooke Street West.
Around Town
For a North American city of its size, Montreal has a low rate of violent crimes, and walking downtown is considered safe even at night.
The downtown area has many shops, restaurants, and museums.
The city has a public transit system called STM, which includes bus and metro (subway / underground) services. The metro system is show below. Weekly, daily, or single-trip passes for both services can be purchased at any metro stop.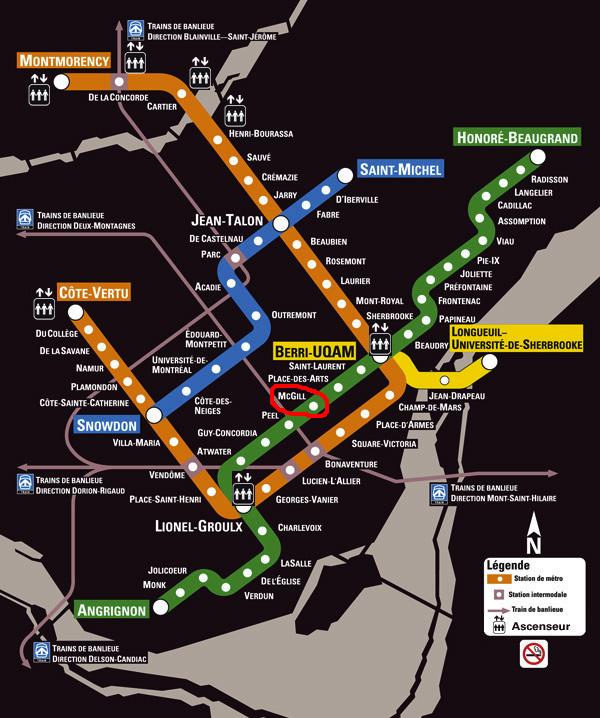 Leisure
Montreal is a city of festivals, its most popular being the Jazz Festival (late June – early July). The city also offers restaurants of almost all origins.
Popular areas among tourists and locals are:
Downtown: shopping, museums, universities.
Old Montreal and Old Port (Champ-de-Mars metro, head South towards the river): sightseeing, restaurants, family-friendly activities
The Plateau (Mont-Royal and Laurier metro): popular area among students due to its vibrant nightlife and many restaurants
The Lachine Canal (Lionel-Groulx or Charlevoix metro, or a nice long walk from the Old Port): the heart of early Canadian industry, it sunk into decline in the 1970s until its revival in the 1990s. A popular destination on weekends for bicycle and jogging enthusiasts, it is close to the Awater Market, where you can find unique Canadian products other than maple syrup.
The Olympic Village (Pie-IX metro): Montreal hosted the Olympic Games in 1976, when the Olympic Stadium and other installations were built. Apart from the Stadium's enclined tower, you can also visit the Insectarium and Botanical Garden. Set in a working-class neighbourhood, the Olympic Village is also home to the unique Biodôme, where you can visit several ecosystems on a single trip.
The Mont-Royal (visible from almost anywhere in the city): Montreal's biggest park is in the heart of the city. Beaver Lake (Lac des Castors) is a popular weekend getaway spot for picnics, and is close to the Belvedere, which offers a great view of the city.
For additional information, visit the Tourisme Montréal website.
---
EXTERNAL LINKS

McGill Mechanical Engineering – Journal for Geometry and Graphics – International Society for Geometry and Graphics
HOME
CALL FOR PAPERS
ORGANIZATION
SPONSORS
IMPORTANT DATES
SUBMISSIONS
REGISTRATION
PROGRAM
VENUE
SOCIAL EVENTS
HISTORY
CONTACT
A big thank you to our sponsors: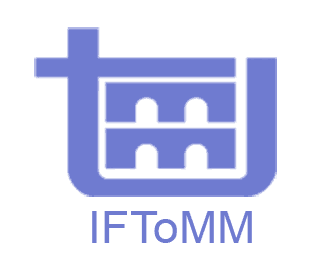 Cash discount for IFToMM members!