The 15th International Conference on Geometry and Graphics
ICGG 2012 – MONTREAL, CANADA
---

Call for papers
Prospective authors are invited to submit extended abstracts related to the topics listed above. There can be a limited number of lectures, and the contributions must be pre-selected through the review process. An extended abstract must be a maximum of 2 pages with 300 to 500 words including figures. The final paper, which must be original and unpublished anywhere else, will be 4 to 10 pages long. All papers will appear in the conference proceedings. Selected papers will be invited to submit to the Journal for Geometry and Graphics (JGG).
Topics / Scope
Theoretical Graphics and Geometry
Theoretical Graphics; Geometry of Curves and Surfaces; Kinematics Geometry; Descriptive Geometry; Computer Aided Geometric Design
Applied Geometry and Graphics
Theoretical Aspects of Geometry; Modeling of Objects, Phenomena and Processes; Application of Geometry in Arts, Sciences, Architecture and Engineering; Geometric Aspects of Technical Art and Design; Computer Animation and Game
Engineering Computer Graphics
Computer Aided Design and Drafting; Computational Geometry; Geometric and Solid Modeling; Product Modeling; Image Synthesis; Pattern Recognition; Digital Image Processing; Graphics Standards; Scientific and Technical Visualization
Graphics Education
Education of Descriptive Geometry and Graphics; Education Technology Research; Multimedia Educational Software Development; E-learning; Virtual Reality Educational System; Educational Software Development Tool
Besides the topics listed above, the conference is open for any contributions related to geometry and graphics. We cordially invite researchers and educators to present their recent results and experiences at our conference.
HOME
CALL FOR PAPERS
ORGANIZATION
SPONSORS
IMPORTANT DATES
SUBMISSIONS
REGISTRATION
PROGRAM
VENUE
SOCIAL EVENTS
HISTORY
CONTACT
A big thank you to our sponsors: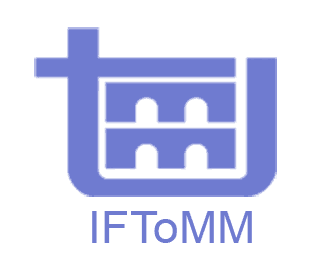 Cash discount for IFToMM members!